Moroccan striker Rosella Ain said the hosts of the Women's Africa Cup of Nations (WAFCON) will not look too far ahead despite booking their place in the quarter-finals ahead of a match.
The Atlas Lionesses lead Group A with goals scored after beating Uganda 3-1 on Tuesday, and face their closest rivals Senegal, who also qualified, on Friday.
The team finishing first in the group will face a third-placed team in the quarter-finals, with the 2023 Women's World Cup qualification guaranteed to the winners of that showdown.
"Of course, when you play in a football tournament, you want to be top of the group," Ayin told BBC Sport Africa.
"I don't think we necessarily think too much in the future about the teams we want to avoid. I'm completely confident in our team and I'm absolutely confident that whoever we're up against can do well.
"I want to qualify for the World Cup but all the focus goes to Senegal on Friday and I hope they top the group.
"I believe in the team and I think we have a very good team. I think we are improving every game."
Eye opened the scoring for Morocco with a penalty kick, and in the second half, Nesrine Chad captain Ghozlan netted the match after Somaya Komontal Somaya in a free kick to equalize Uganda before the end of the first half.
Representing Morocco 'best decision'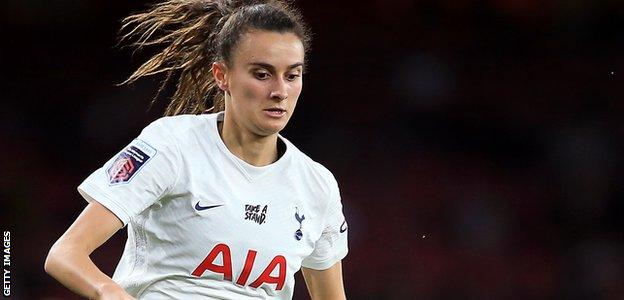 The Tottenham Hotspur player Ain has dual English and Moroccan nationalities and represents England under 17 and under 19.
However, she decided to play internationally for North Africa last year.
"I have a special relationship with Morocco," said the 26-year-old.
"I was born in England. But playing is very special for Morocco, and I wouldn't change it. It means a lot to me with my father's family and my father's heritage.
"This is probably the best decision I have made. I absolutely love it here in Africa and the fans in Morocco are very different from what I am used to back home. [in England]. It's a real feeling."
WAFCON's expansion from eight to 12 teams still gives Uganda hope of reaching the quarter-finals as they face crowned Cranes Burkina Faso in their last group game.
Both teams are pointless after two games, after losing to Morocco and Senegal, but a win for either side might be enough to move up.
"We are still doing our best," Uganda coach George Lotalo said.
"We still have the chance to qualify so we won't give up. We'll organize ourselves and then come in strong to play that match right."
Earlier in Rabat, Senegal They secured their place in the quarter-finals with a 1-0 win over Burkina Faso.
Corca Valle scored the winning goal in the 84th minute from a penalty kick after Habsato Malado Diallo fell in the penalty area.