South Africa had a "disrespect" for Wales by making 14 changes to the second Test on Saturday, according to legendary former scrum half Sir Gareth Edwards.
Edwards says South Africa will remain a "strong" opponent but worries that their many changes will reduce the value of the competition.
The Great British and Irish Lion said, "If there had been five or six changes, you would probably be surprised. But 14 changes? It's overwhelming."
"I don't think it shows respect for Wales and, logically speaking, there is only one way to watch them and that is to give them a good tune, they say.
"I think the only way [South Africa] He could justify it if they win. I think it shows a little disrespect.
"It doesn't matter it's Wales. These days everyone is progressing towards the World Cup so they have a different outlook.
"Yes, make changes but not too much. I am a bit disappointed as I was looking forward to seeing Wales take on these guys again."
Having finished fifth in this year's Six Nations Championship, Wales were expected to suffer an all-out defeat in the first of their three Tests against the world champions last Saturday.
However, Wayne Bivak's renewed side took a long lead during a thrilling encounter in Pretoria before Damien Willemsey handed a last-minute penalty as Wales still looked for their first away win over South Africa.
On Tuesday, Springboks coach Jack Nenber announced an almost entirely new squad for the second Test in Bloemfontein, with six unrelated players in the match-day squad.
Nynaber insisted that he was disrespectful of Welles with his choice, but Edwards believes the domestic side is devaluing the series by making several changes.
"I think it is [devalue it], To some extent. There's a lot at stake but I think it takes a bit of getting ahead, said Edwards, who was named the best player of all time in a survey of international rugby players by Rugby World magazine in 2003.
"I will not suggest for a moment that I know all that is right and wrong in the modern game, except that it requires great physical effort, and it is important that you do so [make changes] But there are ways and means to change. I think it surprised a lot of people.
"Take it from me, any team you played against in a green and gold shirt, you have to respect it.
"It's not going to be easy, apart from that, whether it's a second team or not. They're going to be a tough, tough team.
"I think it was a huge motivation for Wales. First of all, he beat them.
"I think they [Wales players] Maybe they're talking to each other and saying "right boys, that's what they think of us."
"It's a great opportunity to get over them and say 'Thank you so much for choosing this team'."
Commemorating Edwards and 'Greatest Attempt'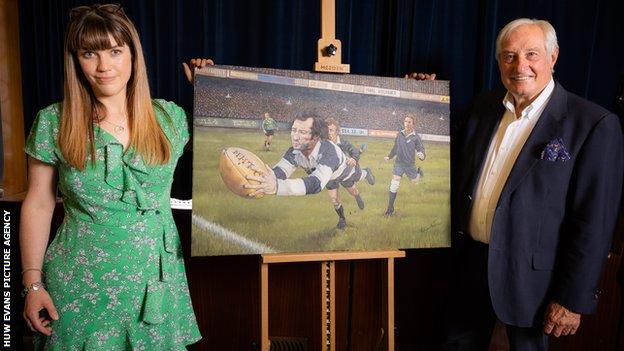 Edwards was speaking at an event to unveil a plaque of his iconic attempt on the Barbarians in their victory over New Zealand in 1973.
The attempt is widely regarded as the greatest in rugby union history, and despite countless replays of its videos since that famous day in Cardiff, it is notable that there are no photographs of the result.
To celebrate Edwards' 75th birthday on July 12 – and with 50 years of trying in January – artist Elaine Sean Blake was commissioned to immortalize the moment with a painting.
Edwards' attempt was the culmination of a charming collective movement, which began with the bold and joyful run of his good friend, The great Phil Bennett, who died last month at the age of 73.
"This was an elephant moment," Edwards recalls. "There was that blunt side and Cliff Morgan's comment."
"I'd like to give Phil some credit, because sadly he's not here in person. Without this start, we wouldn't be here.
"It gives me great pleasure to talk about trying all over the world. What I loved about trying was improvising and making the decision not just on the ball, but off it. You don't see a lot of that days.
"There were a lot of great players involved in that game. There was some great, great impromptu play."