Funeral held for 21 teenagers who mysteriously died at nightclub in South Africa: "We do not know yet exactly what killed our children"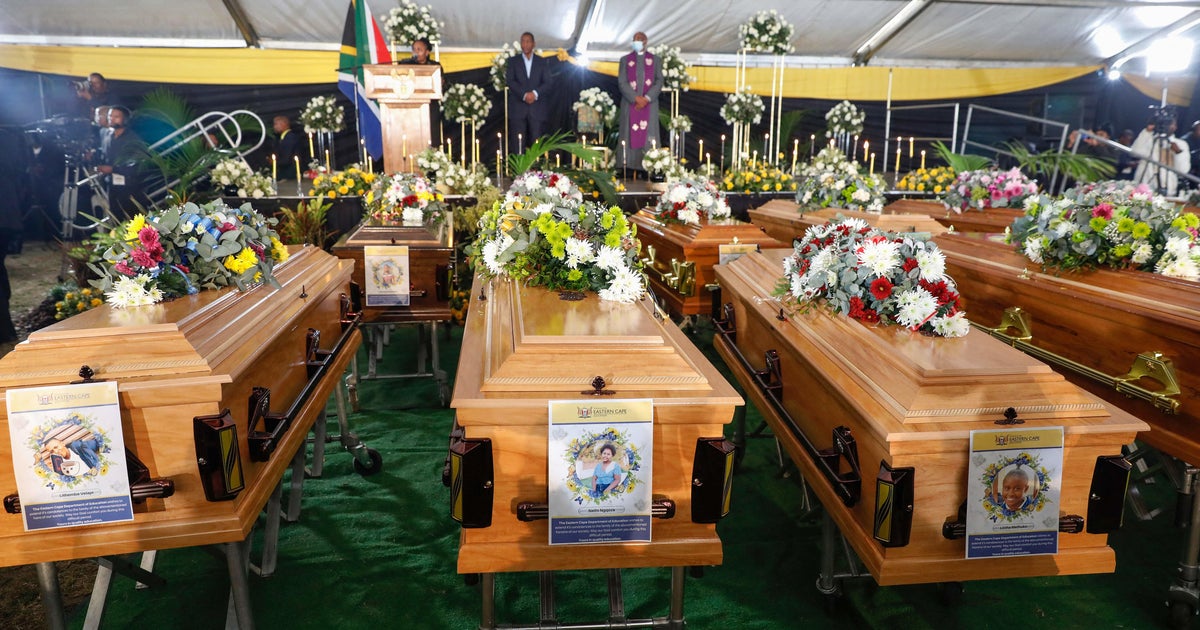 The 21 teenage deaths South African President Cyril Ramaphosa said on Wednesday that the nightclub tragedy is a crime and South African officials must step up steps to prevent the illegal sale of alcohol to young people.
"We don't yet know exactly what killed our children. But we do know that the law was broken that night, probably several nights earlier," Ramaphosa told more than a thousand mourners at the youth funeral in east London. who died in a bar nearly two weeks ago.
"We are losing our future generation to the scourge of underage drinking," the president said, urging police to determine the exact cause of their deaths and calling on officials to prevent young people from allowing them into bars.
"The blame should be placed on the feet of those who make money from the dreams and lives of young South Africans by breaking the law and selling them alcohol," he said.
Two rows of chests in front of Ramaphosa symbolize the loss of young lives.
"Today we shed bitter tears for the 21 young people who died in this tragedy," Ramaphosa said. "These children should not have died. Their death could have been prevented if the law had been observed."
A large choir sang mournful hymns as the nineteen coffins were taken to a large tent where the service was held in the town of Senery Park in east London. Two families did a private burial, and service organizers said the coffins on display were empty in deference to the wishes of some families. They said the children would be buried in various cemeteries later Wednesday and in the coming days.
The tent was filled to capacity so many mourners sat outside.
still The cause of death is unknown Of children as young as 13 years old, their bodies were found in the Ineobeni tavern. Officials said they were under 18 drinking in South Africa. Pathologists study the cause of death from blood samples. Police said a stampede was ruled out because the victims' bodies did not show serious injuries.
Senofuyu Munyani, 19, who was hired by the bar to promote a liquor brand, said last week she was still "confused" but felt lucky to be alive.
She said she struggled to escape through a door locked with people.
"We tried to move through the crowd and shouted 'Please let's pass' and others were chanting 'We're dying guys', 'We're suffocating' and 'There are people who can't breathe,'" she told AFP. .
"I fainted at that moment," she said. "I was short of breath and there was a strong smell of some kind of mist in the air. We thought it was pepper spray."
She later regained consciousness after someone sprayed her with water.
"I got up and realized there were bodies lying around. I saw people pouring water, but these people didn't move," she said in a phone interview. "I could have died."
Ramaphosa delivered the eulogy as he faced numerous challenges including extended power outages in South Africa, widespread allegations of corruption and questions about large amounts of cash found hidden in furniture on his toy farm.
"I've heard some say I have no business coming to Senri Park. Some have said I have bigger problems that need to be fixed," Ramaphosa told the crowd. "But I ask them, What is more important in this country and on this earth than the lives of our children?"
AFP contributed to this report.