Alexia Putellas: Spain midfielder ruled out of Euro 2022 with anterior cruciate ligament injury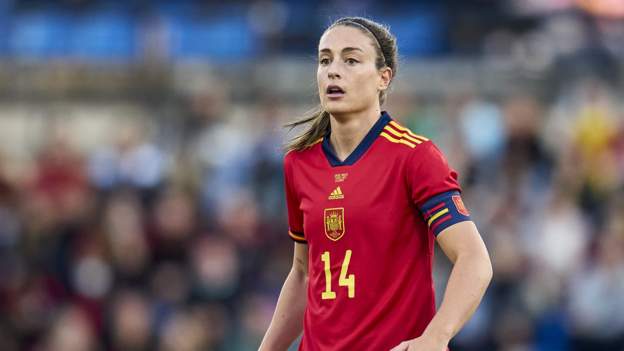 Ballon d'Or-winning Spanish midfielder Alexia Butillas will be absent from the European Championships 2022 after she injured the anterior cruciate ligament on the eve of the tournament.
The Spanish Football Federation (RFEF) said Potellas, who leads Barcelona and the national team, injured her knee during training on Tuesday.
Further medical examinations revealed that the 28-year-old had ruptured her ACL.
Spain begins its campaign for the euro against Finland on Friday.
They would now be without the influential Botelas, the 2021 FIFA Women's Player of the Year, who made 100 appearances and scored 27 goals for the national team.
She was the Champions League top scorer last season with 11 goals and scored 18 assists Barcelona wins the first division For a third consecutive season.
Spain Already without scoring their goals and Potellas' Barcelona teammate Jennifer Hermoso, who suffered a sprained knee ligament last month.
"The biggest Euro without the best player in the world" – Analysis
Emma Sanders, BBC Sport
This is the worst possible news for Botelas, Spain and the tournament as a whole.
The Barcelona captain plays a key role in her country and one of the biggest names in women's football.
Botelas has played more minutes than any other player on her club's court this season – she has proven to be a constant presence in midfield – so suffering a rare injury just days before Spain's opening European Championship game would be an even bigger blow.
Botellas was tipped to be one of the stars of the tournament by many and it was hoped that her form would inspire Spain to win their first major tournament.
She is the face of Spanish football and her injury could also have a negative effect on the mentality and confidence of her teammates, whom she often inspires on the pitch.
For neutrals, they were denied the chance to watch the world's best player in what is being billed as the biggest European Championship in women's football history.